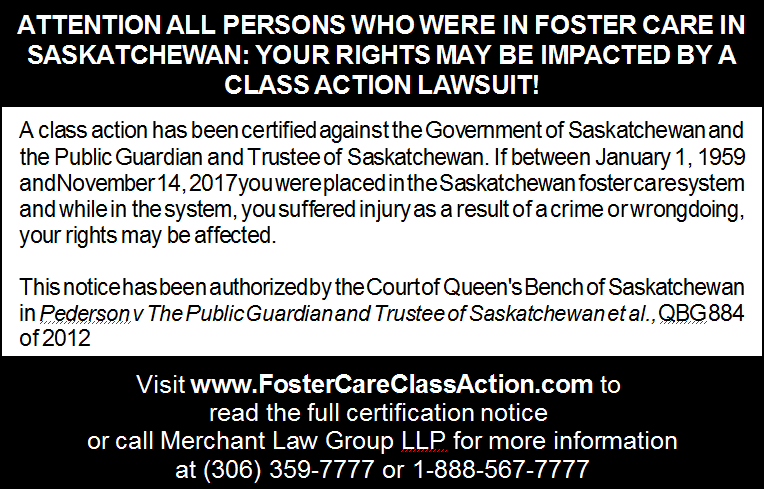 For more information email SKfoster@merchantlaw.com or call 1-306-791-2171
---
ATTENTION ALL PERSONS WHO WERE IN FOSTER CARE IN SASKATCHEWAN: YOUR RIGHTS MAY BE AFFECTED BY A CLASS ACTION LAWSUIT!
PLEASE READ THE BELOW INFO
---
The Saskatchewan Court of Queen's Bench has authorized this notice.
Your rights could be affected by a class action lawsuit against the Government of Saskatchewan and the Public Guardian and Trustee of Saskatchewan (the "Government" or the "Defendants").
The Court has certified a class action that includes all persons:
a) Who between January 1, 1959 and November 14, 2017 were in the custody and guardianship of the Minister pursuant to The Child Welfare Act, The Family Services Act, or The Child and Family Services Act; AND
b) Who, while in the custody and guardianship of the Minister, suffered personal injury as a result of a crime or tort committed by a third party; and, AND
c) For whom the Defendants did not make a claim under The Criminal Injuries Compensation Act, The Victims of Crime Act, or The Victims of Crime Act, 1995, or commence a civil action to obtain compensation on their behalf, or hire a lawyer to represent their interests.
(the "Class" and the "Class Members")
Class Members, as defined above, include those persons who were on apprehended status, were temporary wards, were long term wards, or were permanent wards.
The Court has not yet decided whether the Government did anything wrong. The Defendants deny that the Plaintiffs' claims have merit. The claims against the Defendants have not been proven. If money or benefits are obtained you will be notified about how to ask for a share.
There is no money available now and no guarantee there will be. However, your rights are affected, and you have a choice to make now. This class action litigation is still before the court.
---
If you fit the definition of the Class, you will automatically be included in the lawsuit. You will be bound by all of the decisions of the Court, whether they are favourable to you and the Class or not. If any benefits are awarded, you will have to take certain actions in order to claim your benefits.
If you wish to remove yourself from the class action, you must complete the Opt-Out Form and submit it on or before October 13, 2019. You will not be bound by the decisions of the Court in this action, but you also will not share in any money or benefits that are recovered as a result of this action. Be aware that you cannot change your mind later and "opt in" to the class action once you have opted out.
For more information send a email to SKfoster@merchantlaw.com or call 1-306-791-2171